USA Ads : Free Classifieds with Chat Messenger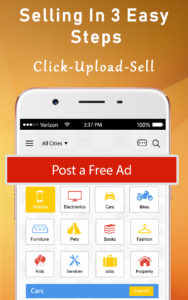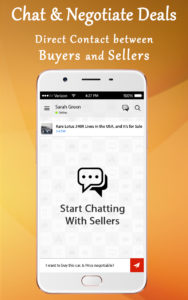 USA Ads application is an outstanding mobile classified platform where anyone can register and post ads for buying or selling anything they want. USA Ads provide ads services like posting ads, chat messenger for instant chat with seller or buyer and freedom to post as many ads as user need.
Post your ad now! If you are going to buy something or planning to sale out some used stuff, you are at right place. Mortgage your house, sold out household easily, Sold out your old car model or buy another through the USA ads listing. Hurry up, download USA Ads mobile application and post your ad now for free. USA Ads application will bring you new opportunities to sale and purchase anything you need with more choices and in convenient way. Just post your ad and see how easy it is. Not enough! Right with USA Ads application you can even chat with the buyer or seller on spot.
Post free classified ads online, search free classifieds ads for used mobiles, new mobile phones, mobile repairing jobs, used computers, user bikes, used cars, new cars, car dealers, used bikes, bikes dealers, used furniture, fashion, buy and sell pets, buy and sell books find a, saloon near you, rent out a house, find a flat for rent , find and office property for rent , buy & sell property, find new jobs, services like car mechanics, kids toys and sports, buy and sell electronics like used TV sets, used refrigerators , used washing machines and other stuff like this,, tailors, hotels & restaurants.
For buyer USA Ads app is best place to find used stuff at a low price? Search through many categories and find something you are looking for, sent a quick message to seller. You can see online status, typing status in chat screen and chat with the seller instantly. Follow
[✔] download & install USA Ads Mobile App
[✔] register quickly with your phone number or email.
[✔] post an ad for what you are looking for or find someone selling the stuff you need.
[✔] happy shopping with ease.
For seller , those who want to sale their car quickly , or want to rent out your home/ apartment or wanted to sale out an old mobile phone , just post a free ad on USA Ads and sale out quickly. Follow steps below to make it work:
[✔] download & install USA Ads
[✔] register quickly with your phone number.
[✔] post an ad for what you are selling with pictures or video.
[✔] set back and wait for your cell phone beep!
Key features:
[✔] user friendly
[✔] seller and buyers chat
[✔] favorites
[✔] Instant chat messenger, and chat history
[✔] exchange images in chat
[✔] phone number verification
[✔] no fake ads.
– Follow us on:
https://web.facebook.com/TechVista
Tweets by techvistaltd
https://www.linkedin.com/company/tech-vista-pvt.-ltd./